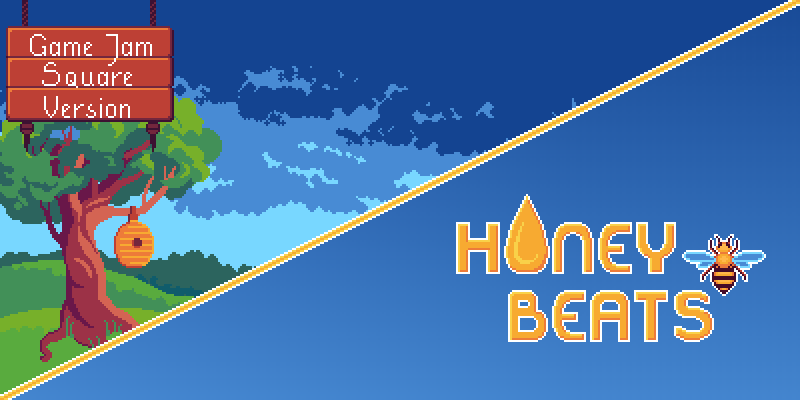 Honey Beats
A downloadable game for Windows
Honey Beats is a rhtyhm co-op game, in which two players control brave and lively bees to repel an attack of hostile insects and defend the hive. The players do not only count on their powerful lasers, but more importantly, on themselves! By moving to the rhythm of the music, the players have to defeat enemies and watch each other's backs, paying attention to the shared score multiplier or insects that require a coordinated attack. No cooperation, no success. This is no place for lone bees!
A slightly improved version of a game prototype created in 40 hours for Game Jam Square, Warsaw 26-28 April 2019.
The project won Grand Prix and Best Sound Design award.

Content used:
Kevin MacLeod – "Theme for Harold var 1", "Spazzmatica Polka", "Silly Fun", "Pinball Spring", "Pixel Peeker Polka – slower": https://incompetech.com/
Licensed under Creative Commons: By Attribution 3.0 License http://creativecommons.org/licenses/by/3.0/
Sound effects: https://www.bfxr.net/
exCamera, by alexandervrs: https://marketplace.yoyogames.com/assets/504/excamera
jeti – Digital Disco: https://www.dafont.com/digital-disco.font
Licensed under CC BY 4.0: https://creativecommons.org/licenses/by/4.0/
Game jam gameplay video
Install instructions
Download and unpack .zip file. Run .exe file. Enjoy the game!